How much does it cost to hire a boat?

You see the headline costs but there are always extras. So what are these extras? How much will the diesel to run the engine cost me and what is a damage waiver anyway? Take a look at the example costing below where we itemise the cost you can expect when hiring the holiday cruiser "Sovereign" from Richardsons Cruisers in Stalham. We have costed a one week break for a party of six beginning on the 30th September.



£509.00
hire charge

Hire charge for one week. Note that this charge is for the boat not per person.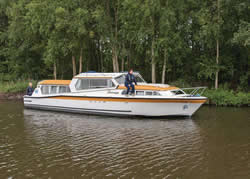 £45.00
Non refundable security waiver
As stated this charge is non-refundable so it can be looked upon as a type of insurance where if you damage your boat (or someone elses) you will not be held responsible for the cost of repairs. With boats being valued anything up to and beyond £100,000 clearly a means of insuring against claims is essential.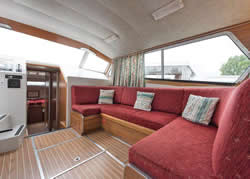 £125.00
fuel deposit
This is an estimate of how much fuel the average hirer might use over a week's holiday. It does not represent a full tank of fuel which might actually run to around £200 on current prices. So what happens if you use more or less than the average? Upon returning your boat at the end of the holiday, the tank will be refilled so as to see how much needed replacing. The difference is the amount you have used. This is costed and any refund due is made to you then. If you have used more than the deposit you will be charged for the excess.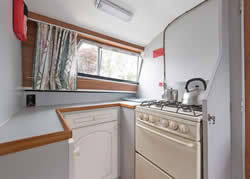 £679.00
total holiday cost
You would need to pay a deposit of £150 to confirm the booking, though from time to time both Hoseasons and Blakes operate a low deposit scheme where this amount is reduced - usually to attract early bookings. The balance payment is due eight weeks before departure.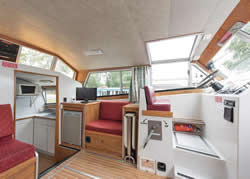 What extras should I expect to pay?

Holiday insurance is optional and you can see what is covered by clicking the link on each boat description at the time of booking. There may be a charge made for car parking at the boatyard, typically between £7 and £15 per week/part week together with optional divers insurance (around £10) to provide cover should you inadvertently get rope or chain etc tangled around the boat propeller. In over 40 years of boating it has happened to the writer only once - though I was relieved I had taken the insurance out on that occasion. Both the car parking and the divers premium are payable on arrival.

The only other outlay apart from food and drink and on-shore activities are mooring fees. These will vary widely with local authority town centre spots being the most expensive at up to £12 for a 24 hour stay. Some public houses with their own moorings charge a fee which is usually refunded against the cost of food purchased in the bar. Having pointed these out it is still possible to have fee free holiday should you moor at other permitted hire boatyards, village staithes or away from built up areas.