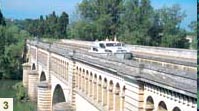 1. Minervois Cruisers moorings at Le Somail, Canal du Midi
2. Narbonne, Canal de la Robine
3. The Magnifique crossing the aqueduct at Béziers, Canal du Midi
The Camargue - Canal du Rhône à Sète
You can see vast flocks of flamingoes, freely roaming wild bulls and white horses, walk around the walls of the ancient crusader city of Aigues Mortes, or just watch shoals of small fish darting around your boat.
With just two locks between Beaucaire and Sête this extraordinary canal makes for effortless cruising. Spend a few hours on a nearby Mediterranean beach, or visit one of the bustling little fishing ports to taste the delicious local seafood accompanied by a cool, refreshing bottle of Muscat.
Everywhere you'll find a warm welcome in this fascinating area of France.


Back to country selection page